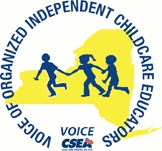 This is too good to pass up...
Esto es demasiado bueno como para dejarlo pasar...
CSEA along with the New York State Department of Health will provide Vision and Dental Insurance at NO COST to any registered, licensed, or enrolled legally exempt child care provider outside New York City. (Please note: Both coverages must be taken for this no cost plan).
You must be an 'active' Child Care Provider with the NYS Office of Children and Family Services to qualify for this no cost Supplemental Insurance Coverage. If your status has changed, please contact Nora Matos at 1-800-342-4146, extension 1309.
* If you are currently enrolled in Medicaid you are NOT eligible for these benefits.
CSEA junto al Departamento de Salud del Estado de Nueva York van a proveer seguro Dental y de Visión sin costo alguno a los proveedores de cuidado de niños registrados, con licencia o legalmente exentos inscritos fuera de la ciudad de Nueva York.
Usted debe ser un proveedor de cuidado infantil "activo" con la oficina de Servicios de Niños y Familia del Estado de Nueva York para calificar para la cobertura suplementaria de seguro sin costo alguno. Si su estado ha cambiado, por favor llame Nora Matos al 1-800-342-4146, extensión 1309.
* Si está inscrito en Medicaid usted NO es elegible para estos beneficios.
Please enter your child care license number and your CSEA member number to continue
Por favor, introduzca su número de licencia de cuidado infantil y su número de miembro de CSEA para continuar
---